Secure your business with CyberHoot Today!!!
China has landed in the middle of one of the largest data breaches of all time after a government developer wrote a blog post on a popular forum that included the credentials to a Shanghai police database. This isn't all too surprising, as 82% of breaches last year were in part due to human error. This includes things such as phishing, use of stolen credentials, misconfiguration, and simple mistakes.
Threat actors were able to get their hands on the data and have posted the 23 terabytes of data for sale on the Dark Web. In total, the leak includes the personal information of roughly one billion Chinese citizens.
The Data Leak
Chinese billionaire and Binance CEO Zhao Changpeng said earlier this week that Binance's threat intelligence team detected one billion records for sale on the Dark Web. He later shared that a government developer's blog post on the China Software Development Network (CSDN) accidentally included the credentials to a Shanghai police database: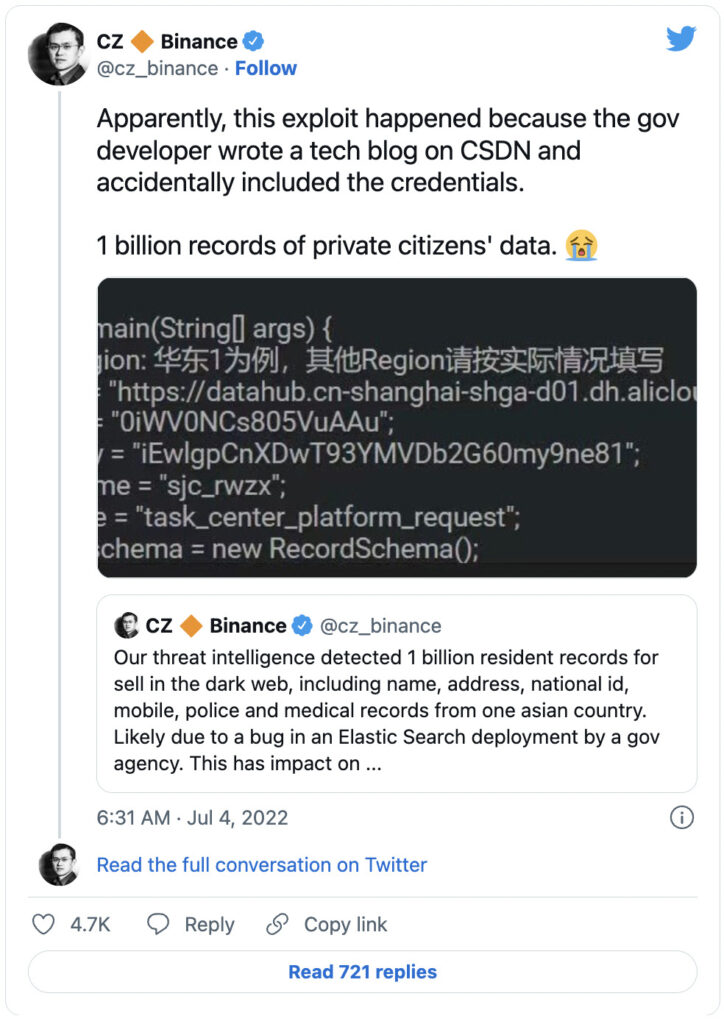 The information in the data leak includes a significant amount of Non-Public Personal Information (NPII) that could compromise up to a billion Chinese citizens. The data leaked included names, addresses, birthplaces, national IDs, phone numbers, health records, and criminal records of Chinese citizens. This is yet another example of why companies must get serious about cybersecurity training with their employees.
The data was posted to Breach Forums, a popular site for hackers to buy and sell information. The personal data was posted by an anonymous hacker by the name of 'ChinaDan', according to Threatpost. In the post, 'ChinaDan' claimed to have downloaded the data from a cloud storage server hosted by Alibaba. The hacker was asking for 10 Bitcoin, which comes out to roughly $200,000, for the entire set of data.
Craig Lurey, CTO, and co-founder of Keeper Security spoke with shared his reaction to the data leak:
"This is the end result of a catastrophic failure to implement basic password management and secrets management. Secrets such as database credentials should never be hard-coded into source code, which is what caused the breach."
It's important to note that many password managers allow organizations to establish strict, deliberate role-based access control (RBAC), along with privileged access to infrastructure, to protect sensitive data and secrets.
What Does This Mean?
This data leak shows that even government employees with security clearances can make mistakes that have catastrophic results. Obviously, someone with that level of clearance has access to databases like these, whereas the average employee at an average company only has access to their company and customer information. This doesn't mean that the average employee doesn't pose a risk, it means that anyone can make mistakes and put your company at risk. It's important to ensure that your staff is being educated on proper password hygiene, how to handle critical information and other aspects of their workday that could put company or customer data at risk.
Take-Home Messages from this Breach:
Since development best practices would normally prevent hard-coding a password into Database and application configuration files, it would appear that Government developers had not been through secure coding training such as CyberHoot's OWASP Top 10 security best practices. If your company develops software, get your developers trained in secure coding practices.
Even if your company doesn't develop software, this credential error underscores the critical importance of both strong Password Hygiene and multi-factor authentication on critical assets like a database containing 1 billion Chinese citizens. No one should have access to that amount of data without MFA.
Continue reading to learn more about the minimum essential cybersecurity measures all companies must build into their cybersecurity programs.
CyberHoot's Minimum Essential Cybersecurity Recommendations
The following recommendations will help you and your business stay secure with the various threats you may face on a day-to-day basis. All of the suggestions listed below can be gained by hiring CyberHoot's vCISO Program development services.
Govern employees with policies and procedures. You need a password policy, an acceptable use policy, an information handling policy, and a written information security program (WISP) at a minimum.
Train employees on how to spot and avoid phishing attacks. Adopt a Learning Management system like CyberHoot to teach employees the skills they need to be more confident, productive, and secure.
Test employees with Phishing attacks to practice. CyberHoot's Phish testing allows businesses to test employees with believable phishing attacks and put those that fail into remedial phish training.
Deploy critical cybersecurity technology including two-factor authentication on all critical accounts. Enable email SPAM filtering, validate backups, and deploy DNS protection, antivirus, and anti-malware on all your endpoints.
In the modern Work-from-Home era, make sure you're managing personal devices connecting to your network by validating their security (patching, antivirus, DNS protections) or prohibiting their use entirely.
If you haven't had a risk assessment by a 3rd party in the last 2 years, you should have one now. Establishing a risk management framework in your organization is critical to addressing your most egregious risks with your finite time and money.
Buy Cyber-Insurance to protect you in a catastrophic failure situation. Cyber-Insurance is no different than Car, Fire, Flood, or Life insurance. It's there when you need it most.
Each of these recommendations, except cyber-insurance, is built into CyberHoot's product and virtual Chief Information Security Officer services. With CyberHoot you can govern, train, assess, and test your employees. Visit CyberHoot.com and sign up for our services today. At the very least continue to learn by enrolling in our monthly Cybersecurity newsletters to stay on top of current cybersecurity updates.
To learn more about the Chinese Data Leak, watch this short 3-minute video: