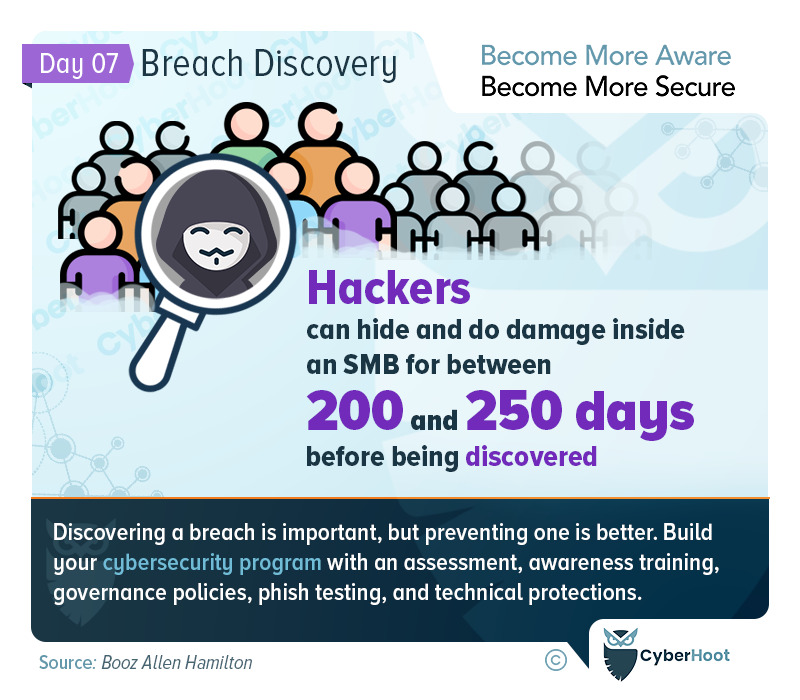 Breach Discovery is Often Quite Hard for Businesses
Breaches can be exceedingly difficult for businesses to discover.  The average time hackers spend in our networks after a compromise is between 200 and 250 days.  Imaging that!  This is well more almost 2/3s of a year. 
For highly targeted companies such as those in the Defense Industry fighting off nation state attackers, or healthcare companies where the data is extremely valuable, there are additional sometimes costly protective measures to be followed:
Consider deploying a Security Event and Incident Management (SEiM) solution to collect all the logs from various security devices across your network (think Firewall, Network and Host Intrusion Prevention Systems, and Server logs) to analyze your normal network traffic and alert when things are off baseline.
Always use Multi-Factor Authentication for every remote access connection into your network no matter what.  Be careful which method of MFA you use… some are more susceptible than others to exploits (SMS being less trustworthy than other methods).
Consider implementing network segmentation at a minimum or an Air Gap at the maximum to protect your most critical data from internet hackers.
For everyone, including the companies mentioned above, CyberHoot recommends the following protective measures: 
CyberHoot Best practices:
CyberHoot believes that for many small to medium sized businesses and MSPs, you can greatly improve your defenses and chances of not becoming another victim of cyberattack if you follow the advice above.
Secure your business with CyberHoot Today!!!