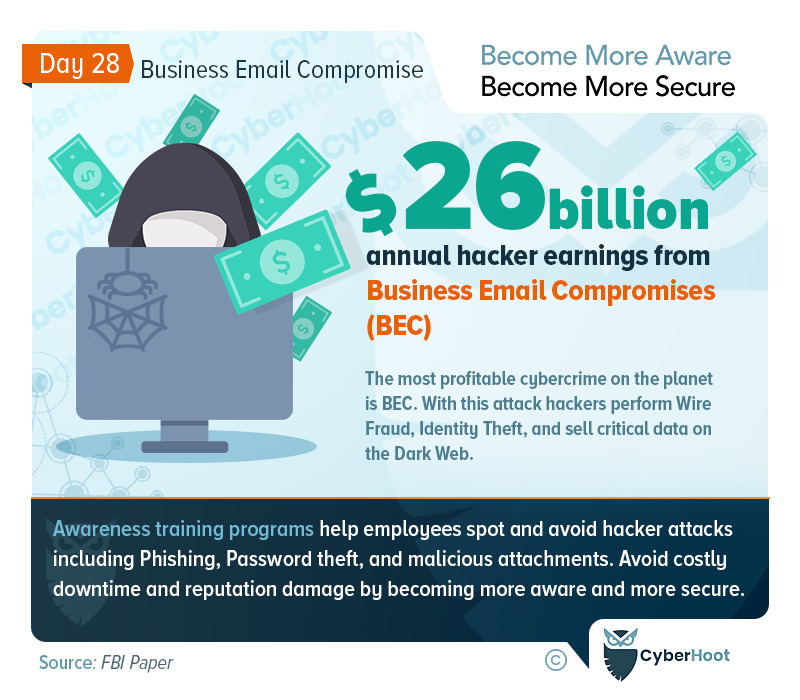 Business Email Compromise – Huge Damages, Easy Solution
Business Email Compromise (BEC) can cause hundreds of thousands of dollars in damages to companies of all shapes and sizes. BEC is so lucrative that hackers continue to use this attack method in larger and larger numbers.  CyberHoot produced this Infographic before the latest FBI study almost doubled the impact of BEC.  Last year, the FBI reported BEC cost businesses $26 Billion globally, while recently updating nearly doubling those astronomical numbers to $43 Billion annually!
CyberHoot views those numbers as shocking, sobering, and a tragedy when 99.9% of Email compromises can be prevented (Microsoft Infographic) when MFA is enabled.  Something simple and FREE could reduce a $43 Billion industry down to a $4.3 million dollar problem ($43B * 0.0001 = $4.3M).  The solution is free, so what are you waiting for?  Enable Multi-Factor Authentication on all your critical accounts (not just email) today.
Also consider signing up with CyberHoot to learn about, and implement, the best cybersecurity practices listed below.
CyberHoot Best practices:
CyberHoot believes that for many small to medium sized businesses and MSPs, you can greatly improve your defenses and chances of not becoming another victim of cyberattack if you follow the advice above.
Secure your business with CyberHoot Today!!!