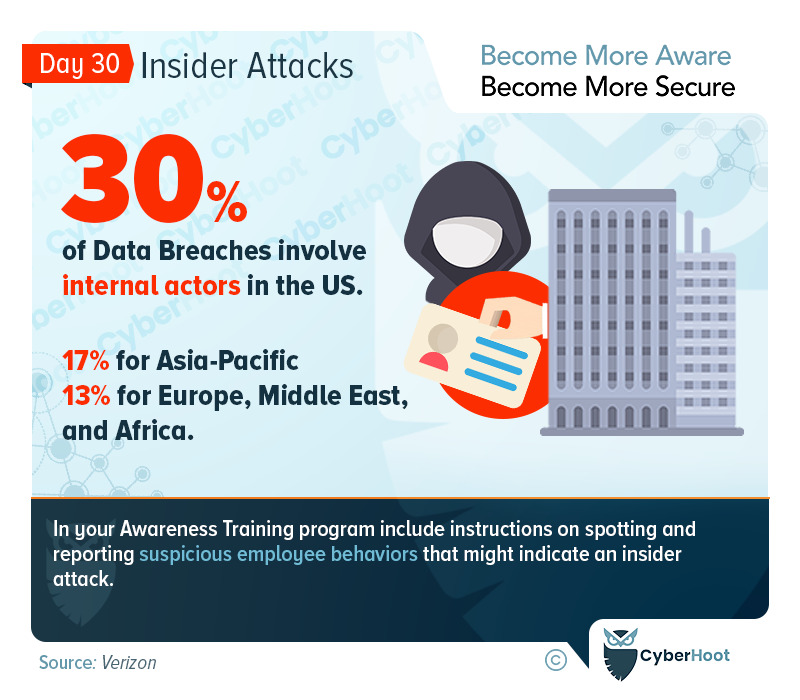 What harm can come from Insider Attacks?
Each year since Covid hit, employees have been resigning in ever increasing numbers.  Finding strong replacement candidates can be tough.  But did you know that there are other costs to your business from departing employees?  You see, many of them work remote and squirrel away your critical and sensitive information on their own equipment at their home outside your ability to recover the data when they depart.
Still others may be more bold and seek to sell your proprietary and critical information on the dark web, or directly to your competitors.  While it may seem unfair in your mind, and we'd all like to think that everyone we hire will be truthful and loyal, it never hurts to learn how to spot and check for malicious insider behaviors that could lead to damages to your company.  CyberHoot provides insider attack training as part of its foundational training courses. Sign up and instill awareness in your employees on how to spot and report suspicious insider behaviors!
With CyberHoot you can learn about far more than insider threats.  You will learn about password hygiene, why Password Managers matter so much, and how to spot and avoid phishing attacks.  In addition, you can hire our vCISOs to help you implement all of the cybersecurity best practices listed below.
CyberHoot Best practices:
CyberHoot believes that for many small to medium sized businesses and MSPs, you can greatly improve your defenses and chances of not becoming another victim of cyberattack if you follow the advice above.
Overview of Insider Threats (7 min)
Secure your business with CyberHoot Today!!!