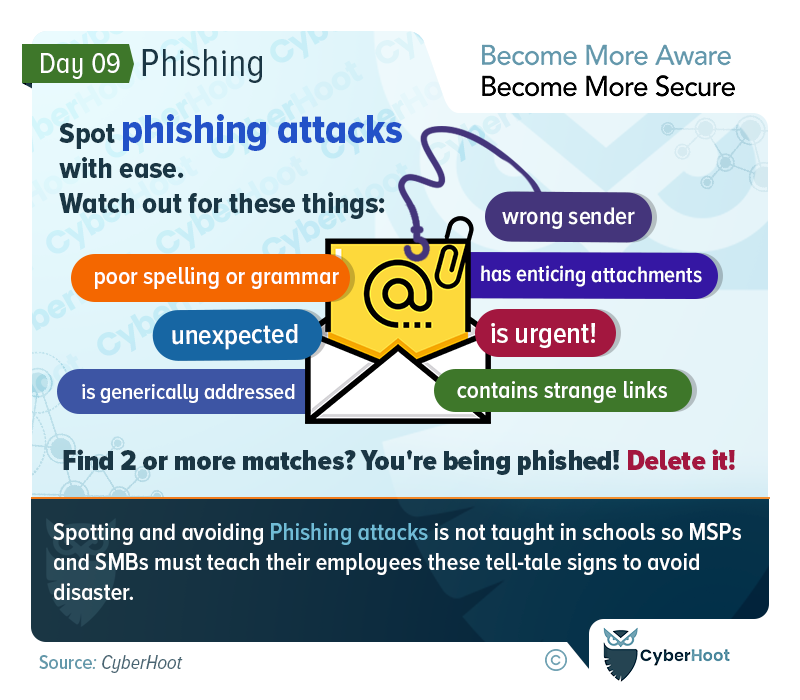 Phishing Attacks are Everywhere These Days
Hackers know there are two easy ways into businesses today.  Comb through the dark web for usernames and passwords that have been part of previous breaches and try those on the target companies Email systems, Remote Access solutions, and Cloud applications.  Eventually they will get in.  But when they fail, they turn to Phishing attacks.
Every employee today needs to understand the seven telltale signs that an email you have received is a phishing attack.  Learning these is critical to depending your organization and your personal life from modern hacker attacks.  The graphic above and video below outline how to spot these threats easily.  However, for businesses, it is not enough to educate employees.  You must test them with modern phishing tests to ensure they are applying their knowledge.
Companies have to be perfect each and every day in spotting and avoiding phishing attacks.  Hackers only need to be successful once.   Train and test your staff to put up the strongest defense possible.
In addition to training and testing staff, CyberHoot also recommends the following protective measures: 
CyberHoot Best practices:
CyberHoot believes that for many small to medium sized businesses and MSPs, you can greatly improve your defenses and chances of not becoming another victim of cyberattack if you follow the advice above.
CyberHoot's Innovative Phish Testing by Assignment
Secure your business with CyberHoot Today!!!