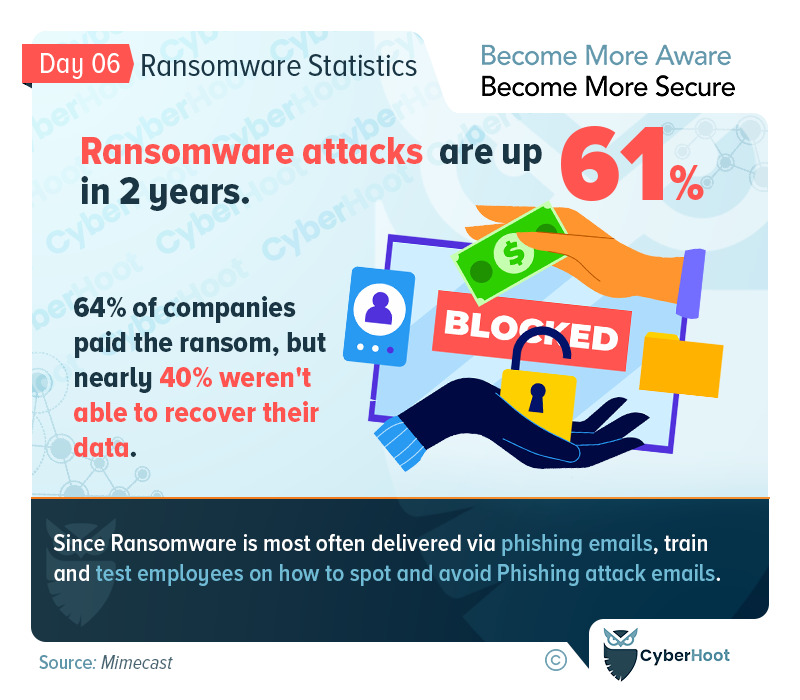 Ransomware Statistics are Off the Charts
Ransomware has been evolving.  Years ago a strong data backup process and technology stack could help businesses recover quickly from a ransomware attack.  Those days are over.  Hackers deploying ransomware have three strong work-arounds for you backup solutions to use in order to make you pay their ransom demands.  First, if they can get into your network (often the case), then they try to quietly delete your backups from existence.  The moment you notice, they execute the encryption and you're backups aren't there.
Second, they sometimes encrypt the backup data with their ransomware making it impossible to recover.  This method is much more difficult to do when versioning is in place for your backup solution.  However, if you have the ability to restore your data from a prior version, then hackers go to option #3.
Option #3: threaten to release your private data to the Internet.  Modern ransomware has evolved to exfiltrate (steal) your data to offsite locations.  This enables a hacker to comb through the data looking for juicy bits of Non-Public Personal Information (NPPI) and threaten to release it to the world.  If your a law firm, healthcare provider, tax accounting firm, you can ill afford to have a data breach like that on your hands for your clients.  This is the nuclear option for ransomware and it is leading to more and more ransoms being paid.
So, what does CyberHoot recommend you do to protect yourself?  The following: 
CyberHoot Best practices:
CyberHoot believes that for many small to medium sized businesses and MSPs, you can greatly improve your defenses and chances of not becoming another victim of cyberattack if you follow the advice above.
Secure your business with CyberHoot Today!!!