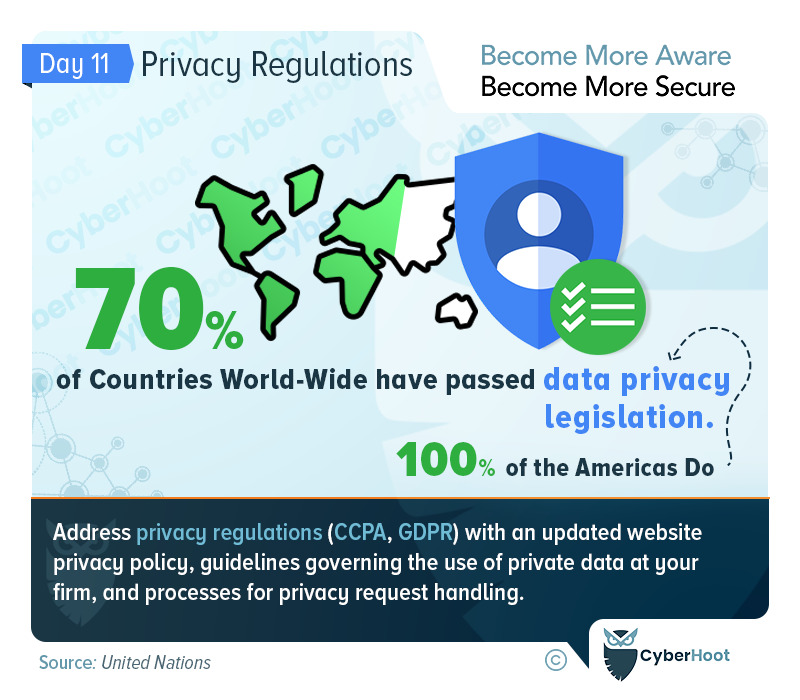 Privacy Regulations are Growing Teeth
Privacy regulations have been passed in most industrialized countries of the world.  They all seek to protect the non-public personal information that companies collect, update, sell, and use to sell their products to the world.  If your business has a website, you need a privacy policy that spells out what you collect, how you use it, how to get it corrected, removed, and never sold.  You should consider putting a Data Protection Officer in place, and ensure you comply with legislation that applies to your jurisdiction.  If in the EU, that General Data Privacy Regulations, if you're located in http://or California specifically, the US you'll need to check your local state requirements. One of the most effective US legislative measures passed was in California and was based loosely on GDPR.  It's called CCPA or the California Consumer Protection Act.
Dealing with Data Privacy by identifying all the consumer data you collect and stating in your website privacy policy how you will use it is an important step to complying with the various privacy laws of the world.  The sooner you do, the better you'll sleep at night knowing you have a handle on your data privacy.
CyberHoot recommends the following protective measures to help improve your overall cybersecurity protections and reduce the risk of compromise at your company.
CyberHoot Best practices:
CyberHoot believes that for many small to medium sized businesses and MSPs, you can greatly improve your defenses and chances of not becoming another victim of cyberattack if you follow the advice above.
Secure your business with CyberHoot Today!!!