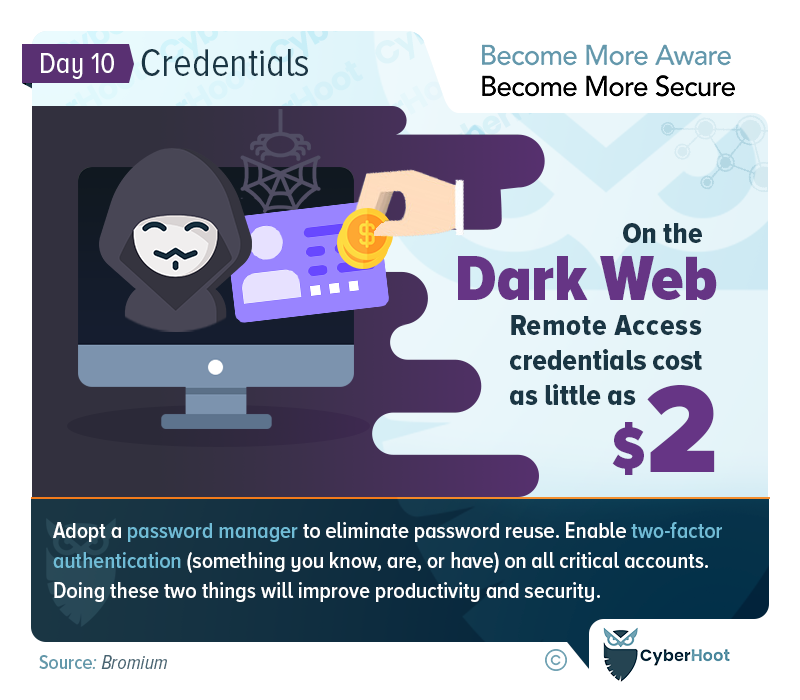 Dark Web Credential Values
The dark web contains marketplaces in which hackers buy and sell a variety of information.  There are markets for credentials where hackers can buy data dumps from other hackers for $2.00 for each set of credentials.  Healthcare records are worth even more since they can be used for identity theft.  Tax information may be the most valuable as hackers can file our taxes on us and receive a tax refund from government tax authorities.  
CyberHoot recommends that each business understand the value of the data they have collected on clients and employees within your business.  That will help you understand the likelihood of attack that you face.  The more non-public personal information you have, the larger the target.  Pay particular attention to data stores that contain credentials, financial information, or other NPPI as it is coveted by hackers.
CyberHoot recommends that you salt and hash all your credentials recursively to prevent their theft in the case of a breach of systems.  You should also encrypt all your critical data at rest and in motion within your environment.
For everyone, including the company industries mentioned above, CyberHoot recommends the following protective measures: 
CyberHoot Best practices:
CyberHoot believes that for many small to medium sized businesses and MSPs, you can greatly improve your defenses and chances of not becoming another victim of cyberattack if you follow the advice above.
Secure your business with CyberHoot Today!!!