Secure your business with CyberHoot Today!!!
The Cybersecurity Maturity Model Certification (CMMC) is a system of compliance levels that helps the government, specifically the Department of Defense (DoD), determine whether an organization has the security measures in place to securely work with Controlled Unclassified Information (CUI) or other business-critical data. Companies that are interested in working with the DoD will need to be CMMC rated and follow specific CMMC regulations. CMMC started out with give levels of certification, however, as shown below, with CMMC 2.0 released in Jan 2022, they compressed the levels down to 3 unique levels as outlined below.
Level 1 is what most companies should already have achieved; this includes basic security systems, password hygiene, and antivirus protection software. Level 3 includes proactive methods to detect and mitigate threats before they begin, as well as systems and processes in place to audit infrastructure, identify gaps, and fix them. A Level 3 system is constantly being optimized.
CMMC certification is required by organizations operating with DoD information. If the organization is operating with CUI, it may only need a Level 2 clearance or below. If the organization is operating with classified information, it will likely need a clearance of Level 3.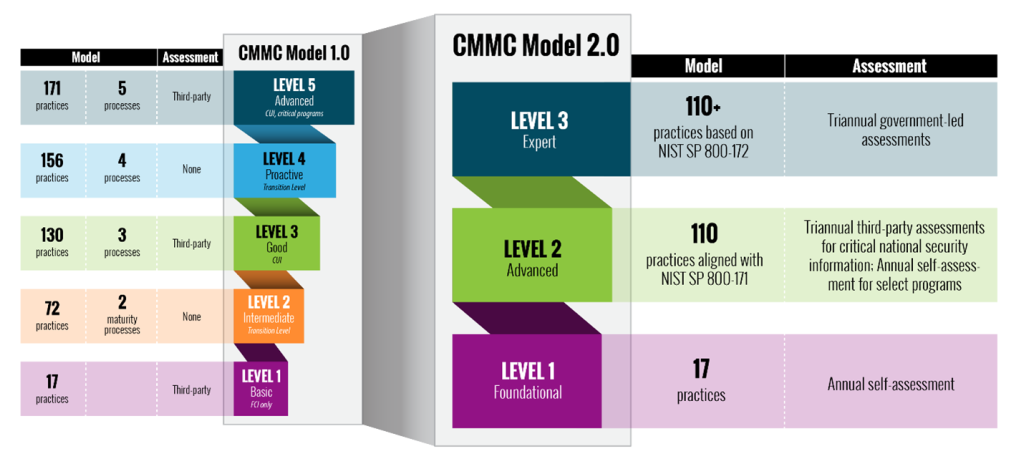 What does this mean for an SMB?
If you're interested in working with the government, your organization may need CMMC compliance. CMMC compliance requirements vary depending on the contract, with many contracts requiring only Level 1 or Level 2 compliance, but some contracts require Level 3.
If you're not working with the government, but plan to work in the Defense industry in the future, you should still begin your CMMC journey. Many estimate that it can take an organization 12 to 18 months to reach CMMC Level 2 readiness and longer for level 3.
You also should engage with a CMMC consultant to help you prepare. There are many paths that can be taken that will lead to a dead end.  Still other decisions within CMMC compliance are yet to be determined – most notably who can self-attest to Level 2 compliance and who will be required to be certified by a licensed certification organization.
The basic principles of CMMC compliance relate to proactive and consistent security best practices based upon NIST 800-171 control objectives. These are controls that most organizations should be focused on implementing for strong defense-in-depth cybersecurity program and just plain old peace of mind. 
The additional recommendations below will help get your organization on the right path towards CMMC compliance. 
Additional Cybersecurity Recommendations

Additionally, these recommendations below will help you and your business stay secure with the various threats you may face on a day-to-day basis. All of the suggestions listed below can be gained by hiring CyberHoot's vCISO Program development services.
Govern employees with policies and procedures. You need a password policy, an acceptable use policy, an information handling policy, and a written information security program (WISP) at a minimum.
Train employees on how to spot and avoid phishing attacks. Adopt a Learning Management system like CyberHoot to teach employees the skills they need to be more confident, productive, and secure.
Test employees with Phishing attacks to practice. CyberHoot's Phish testing allows businesses to test employees with believable phishing attacks and put those that fail into remedial phish training.
Deploy critical cybersecurity technology including two-factor authentication on all critical accounts. Enable email SPAM filtering, validate backups, deploy DNS protection, antivirus, and anti-malware on all your endpoints.
In the modern Work-from-Home era, make sure you're managing personal devices connecting to your network by validating their security (patching, antivirus, DNS protections, etc) or prohibiting their use entirely.
If you haven't had a risk assessment by a 3rd party in the last 2 years, you should have one now. Establishing a risk management framework in your organization is critical to addressing your most egregious risks with your finite time and money.
Buy Cyber-Insurance to protect you in a catastrophic failure situation. Cyber-Insurance is no different than Car, Fire, Flood, or Life insurance. It's there when you need it most.
All of these recommendations are built into CyberHoot the product or CyberHoot's vCISO Services. With CyberHoot you can govern, train, assess, and test your employees. Visit CyberHoot.com and sign up for our services today. At the very least continue to learn by enrolling in our monthly Cybersecurity newsletters to stay on top of current cybersecurity updates.
To learn more about CMMC, watch this short 3-minute video:
CyberHoot does have some other resources available for your use. Below are links to all of our resources, feel free to check them out whenever you like: 
Note: If you'd like to subscribe to our newsletter, visit any link above (besides infographics) and enter your email address on the right-hand side of the page, and click 'Send Me Newsletters'.