October is National CyberSecurity Awareness Month (NCSAM). It is a collaborative effort between government and industry to raise awareness about the importance of cybersecurity.
CyberHoot is helping further the mission "to ensure that all Americans have the resources they need to be safer and more secure online."
Two-factor authentication is the Gold Standard of how to securely authenticate identities.  All banks of long required two-factor authentication of clients calling their support lines, logging into online banking portals, or when business requesting wire transfers.
Today's 4 min. CyberHoot video: Two Factor Authentication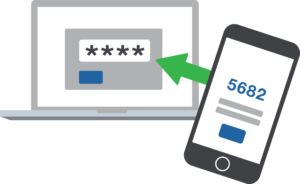 FREE PLEDGE:  please share our Reducing WiFi Risks Video with friends and family who might need this awareness using the social media links below.
CyberHoot does have some other resources available for your use. Below are links to all of our resources, feel free to check them out whenever you like: 
Note: If you'd like to subscribe to our newsletter, visit any link above (besides infographics) and enter your email address on the right-hand side of the page, and click 'Send Me Newsletters'.