SonicWall Vulnerabilities
The weaknesses in question impact SMA 6200, 6210, 7200, 7210, and 8000v running firmware versions 12.4.0 and 12.4.1. The vulnerabilities are listed below:
CVE-2022-22282 (CVSS score: 8.2) – Unauthenticated Access Control Bypass
CVE-2022-1702 (CVSS score: 6.1) – URL redirection to an untrusted site (open redirection)
CVE-2022-1701 (CVSS score: 5.7) – Use of a shared and hard-coded cryptographic key
Successful exploitation of these bugs could allow an attacker to unauthorized access to internal resources and even redirect potential victims to malicious websites.
SonicWall noted that the flaws do not affect SMA 1000 series running versions earlier than 12.4.0, SMA 100 series, Central Management Servers (CMS), and remote access clients.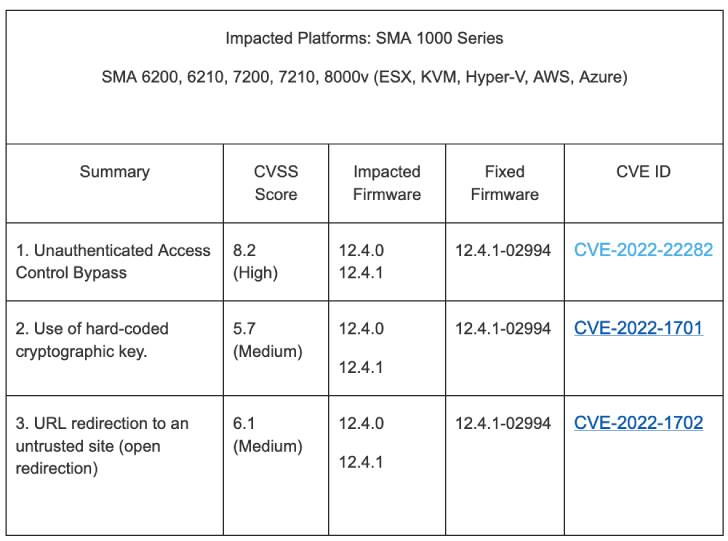 What Should You Do?
Although there is no evidence that these vulnerabilities are being exploited in the wild yet, it's recommended that users apply the patches as soon as possible in light of the fact that SonicWall appliances have presented an attractive bullseye in the past for ransomware attacks.
You have a Vulnerability Alert Management Process, right?
If you're a subscriber to CyberHoot's services, you'll have access to our Policy and Process library which contains the vulnerability alert management process document. This document prescribes how to respond to situations like this and in what time frame. If your company has not yet adopted a VAMP-like process, now is a great time to get started.
Our recommendations below will help your business' overall security posture, consider taking these actions as well. 
CyberHoot's Minimum Essential Cybersecurity Recommendations
The following recommendations will help you and your business stay secure with the various threats you may face on a day-to-day basis. All of the suggestions listed below can be gained by hiring CyberHoot's vCISO Program development services.
Govern employees with policies and procedures. You need a password policy, an acceptable use policy, an information handling policy, and a written information security program (WISP) at a minimum.
Train employees on how to spot and avoid phishing attacks. Adopt a Learning Management system like CyberHoot to teach employees the skills they need to be more confident, productive, and secure.
Test employees with Phishing attacks to practice. CyberHoot's Phish testing allows businesses to test employees with believable phishing attacks and put those that fail into remedial phish training.
Deploy critical cybersecurity technology including two-factor authentication on all critical accounts. Enable email SPAM filtering, validate backups, and deploy DNS protection, antivirus, and anti-malware on all your endpoints.
In the modern Work-from-Home era, make sure you're managing personal devices connecting to your network by validating their security (patching, antivirus, DNS protections) or prohibiting their use entirely.
If you haven't had a risk assessment by a 3rd party in the last 2 years, you should have one now. Establishing a risk management framework in your organization is critical to addressing your most egregious risks with your finite time and money.
Buy Cyber-Insurance to protect you in a catastrophic failure situation. Cyber-Insurance is no different than Car, Fire, Flood, or Life insurance. It's there when you need it most.
Each of these recommendations, except cyber-insurance, is built into CyberHoot's product and virtual Chief Information Security Officer services. With CyberHoot you can govern, train, assess, and test your employees. Visit CyberHoot.com and sign up for our services today. At the very least continue to learn by enrolling in our monthly Cybersecurity newsletters to stay on top of current cybersecurity updates.
Secure your business with CyberHoot Today!!!