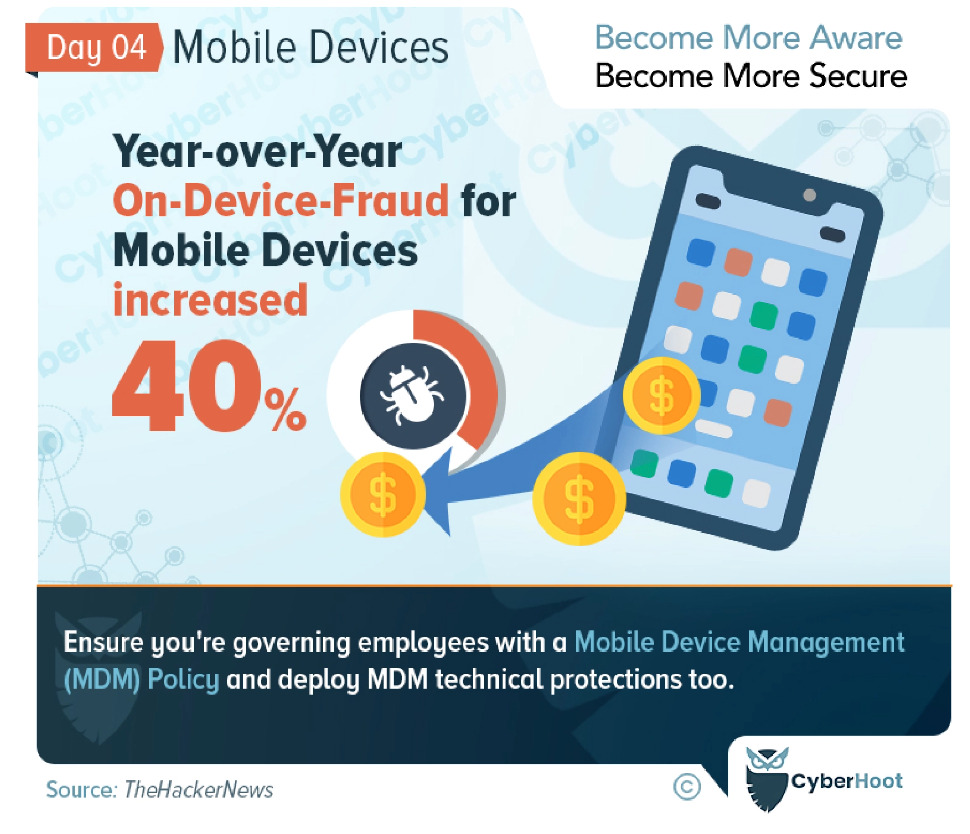 Mobile Device Fraud
Mobile devices are ubiquitous in every household across the world.  Many families use a mobile phone instead of computer for their day-to-day communications.  No wonder then hackers are increasingly targeting mobile devices with various attacks.  From credential stealing smishing attacks to on device malware that steals credentials, private information, and more.  Fraud on your mobile device is more common than its ever been.  Here are some tips for mobile device users out there:
Always keep your mobile device in your possession; never leave it on a dashboard in your car, on the seat, or on the bar while you visit the restroom.
Keep your mobile device up-to-date.  Patch it whenever prompted.  Turn on automatic updates.
Do not root or jail-break your mobile device. This eliminates many security protections inherent in the device.
Set a complex passcode and enable biometric authentication to unlock the device (Ie: face-ID or fingerprint).
Enable locking of the mobile device after 5 min. of inactivity.
If you think there's a possibility of having your device taken from you (perhaps at a foreign airport, or government search) power the device off and on.  That will reset the password requirement preventing the biometric unlock of your device.  The adversary can point the phone at your face to unlock it but they cannot compel you to reveal your password/passcode.  Just make sure it is a long and strong passphrase.
Secure your business with CyberHoot Today!!!