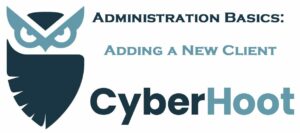 This video provides you a 3 minute overview of how to add a new client to your CyberHoot deployment using an 8-step Wizard. This includes the following aspects of that wizard:
Branding the Client environment with their company Logo.
Setting key features available to CyberHoot clients such as Emailing Policies, Enabling Dark Web Breach reporting to Managers, and enabling weekly compliance reports on employee compliance to their assignments.
Uploading Users via an MSDOS formatted CSV file.
Assigning a Years worth of Training via the Training Programs menu.
White-listing the Mail-Relays of CyberHoot.
Thank you and Happy Hooting!